A Cuban classical-jazz mix, straight from Havana, to liven up your Friday
Pianist Aldo and violinist Ilmar López-Gavilán, brothers from Cuba, along with Ilmar's group, the Harlem Quartet, will bring a heady mix of music to Seattle on Friday, March 13.
By Paul de Barros
Seattle Times music critic
North Americans visiting musical conservatories in Havana can't help but notice that in Cuba, music education is less segmented than it is here. Student performances for guests can include classical, jazz, Afro-Cuban, bolero, salsa and pop — all in one recital. That's one reason Cuban jazz players often have such strong classical chops: They've been studying piano since, as we say of our Nashville cats, "they's babies."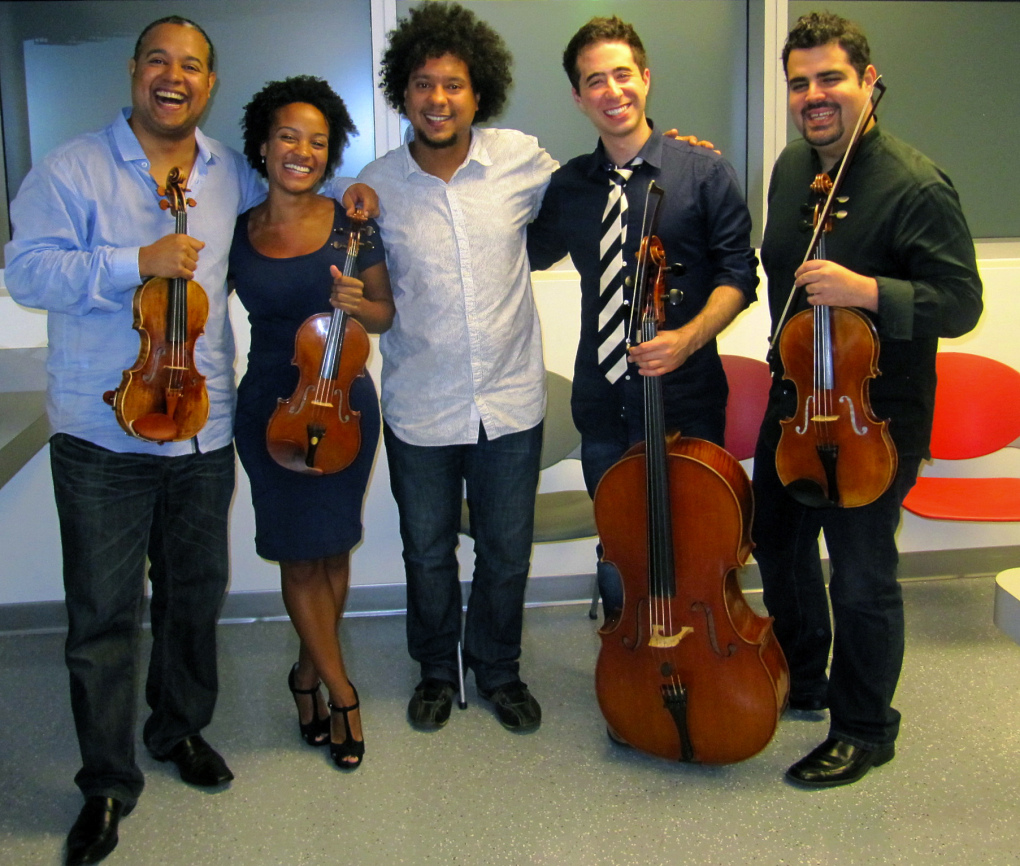 A rare glimpse of Cuban pan-musicality is on view this weekend as the López-Gavilán brothers — pianist Aldo and violinist Ilmar, with the Harlem Quartet — make their West Coast debut in a program of jazz, classical and Afro-Cuban music for piano and string quartet.
Aldo López-Gavilán (at center) was a prodigy who made his professional debut at age 12 with Cuba's Matanzas Symphony Orchestra. Since then, he has done world tours, composed for film and theater, released six albums and been featured in the film "¡Manteca, Mondongo y Bacalao con Pan!" — a documentary about Latin jazz in Cuba. Possessed of dazzling technique and rhythmic fire, López-Gavilán is something to behold. Conductor Claudio Abbado invited him to perform as a soloist in a concert celebrating the 250th anniversary of Mozart's birth.
The Harlem String Quartet made its public debut in 2006 at Carnegie Hall and most recently recorded the Grammy Award-winning "Hot House," with pianist Chick Corea — also in town this weekend — and vibraphonist Gary Burton. The group (shown from left in the photo): Ilmar López-Gavilán and Melissa White (violins), Matthew Salkind (cello) and Jaime Amador (viola).
Part of the attraction of this program is the set list, which includes Corea's classical piece, "The Adventures of Hippocrates," Wynton Marsalis' string quartet, "At the Octoroon Balls," Billy Strayhorn's swing-era classic, "Take the A Train," and original works by Aldo López-Gavilán himself.
7:30 p.m. Friday, March 13, at Nordstrom Recital Hall, Benaroya Hall, 200 University St., Seattle; $10-$55 (206-215-4747 or nwsinfonietta.org). The Seattle performance is followed by shows Saturday in Tacoma and Sunday in Puyallup.
Paul de Barros: 206-464-3247; pdebarros@seattletimes.com; or follow him on Twitter @pdebarros