Aldo López-Gavilán & Harold López-Nussa in Concert in Miami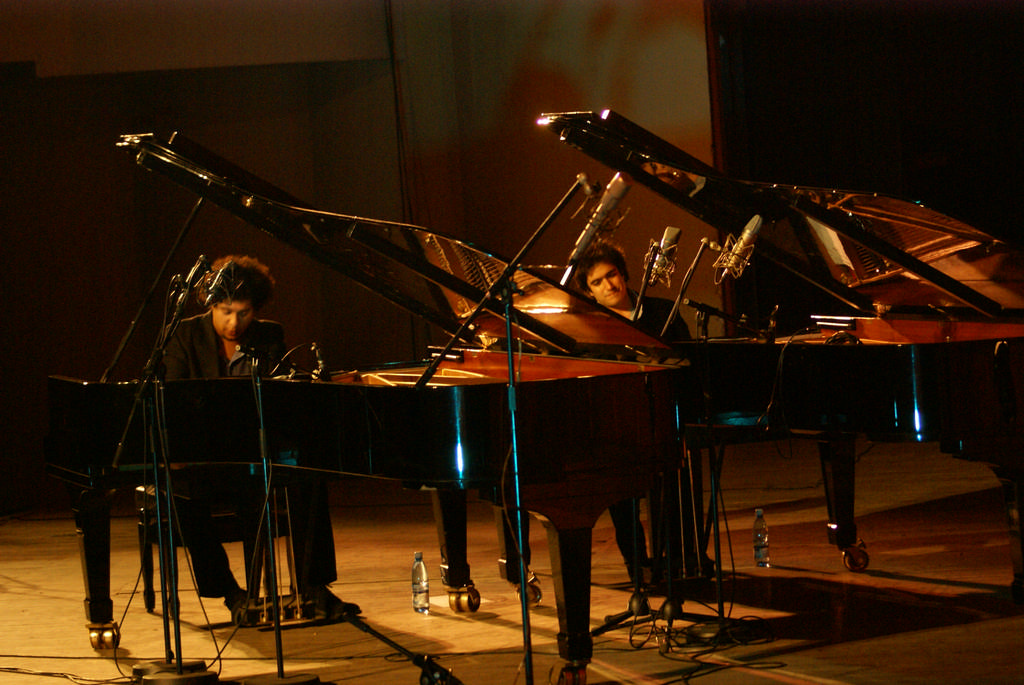 Miami, Florida- On Saturday 24th of November, FUNDarte will be presenting Cuban Pianists Aldo López-Gavilán & Harold López-Nussa in Concert. The event will take place at the new On.Stage Black.Box Theater at Miami-Dade County Auditorium (2901 W. Flagler St., Miami).

The Wild Youth of Cuban Piano

This performance marks the opening of FUNDarte's 10th anniversary season of presenting exciting, risk taking and truly diverse performing arts events in Miami.  FUNDarte's commitment to local audiences and tenacity in bringing the vangarde of contemporary performing arts from far reaches has won the organization growing support, including a grant from the Knight Foundation for programming, which is dedicated to presenting innovative local and international Latino artists.
With this support, FUNDarte will bring direct from his engagement at Carnegie Hall, Aldo López-Gavilán will be joined by Harold López-Nussa for an exceptional duet that will embrace themes from traditional Cuban sounds to Afro-Cuban Jazz.  Virtuosity, innovation, and originality are how audiences and critics describe the two young uber-talents that are taking the classical and jazz music worlds by storm.  Both accomplished and award winning soloists in their own right, these two Cuban maverick pianists will be playing one rare engagement together at the Miami Dade County Auditorium, thanks to Miami's FUNDarte. Come hear, understand and savor the live sounds of these unique pianists from the Island.  This program is presented in support of the mission of the new No Borders Performance Series.
WHAT: Cuban Pianists Aldo López-Gavilán & Harold López-Nussa in Concert
WHEN: Saturday, November 24th, 2012, at 8:00 p.m.
WHERE: The Miami Dade County Auditorium, On Stage Black Box Theater, 2901 West Flagler Street, Miami, FL. 
TICKETS: $30 General Admission/Entrada General, $25 seniors/personas mayores (65+) & Students/Estudiantes (18-) with/con I.D. www.ticketmaster.com & by phone (800)745.3000, or in-person at Miami-Dade County Auditorium Box Office, Monday/Lunes to Friday/Viernes, 9am – 4pm, 2901 W Flagler Street, Miami, FL 305.547.5414
FREE PARKING!
+ info: info@fundarte.us – www.fundarte.us – 305.316.6165

19:01:15
PRESS QUOTES:

"Aldo López-Gavilán is not only a formidable virtuoso, but also exceeds in works that require extraordinary color and fascinating sounds.  His natural talent never suffers and his original thinking as an artist assures a performance of amazing playing and individuality." 
-The London Times
"From the first note one realizes that Lopez-Gavilan can't be identified as a pianist because he IS the piano."
-International Jazz Festival of Cali  
"López-Nussa's latest album possesses the devilish speed and convincing forcefulness of Cuban piano, and he's capable of showing his brilliance in his solos as well as a loyal accompaniest—definitely a name to follow."
-DistritoJazz.com

Artist Biographies

Called a true musical genius and a 'piano hurricane', Aldo López-Gavilan is a Cuban Pianist who is known as well for his exhilarating classical interpretations as he is for his complete and entrancing mastery of Afro-Cuban Jazz.  He started his professional career very early on, debuting with the Symphonic Orchestra of Matanzas at age 12, and with the National Symphony of Cuba at age 17.  After finishing his preliminary Piano studies in Cuba, he enrolled in London's Trinity College to continue his formal education.  He has won numerous prizes in international piano competitions, and has performed internationally in Venezuela, United States, United Kingdom, Sweden, France, Canada, Hong Kong, Dominican Republic, Colombia, Spain, Greece, Burkina Fasso, Germany and Austria, besides his native Cuba.  In 2006 he was invited to play as a soloist in a special concert given by the Symphonic Youth Orchestra in Caracas, Venezuela in honor of 250-year anniversary of Mozart.  He has recorded several CD's, and has formed his own quartet, with whom he tours regularly. 
Harold López Nussa is a Cuban Pianist who began his musical studies under the tutelage of Teresita Junco (who is Aldo López-Gavilan's mother), who would later be an important advisor during his studies at the Institute of Fine Arts of Cuba (ISA). His training and musical roots have allowed him to transit freely between popular and classical genres, sharing the stage with some of the greats such as Leo Brower, José Miguel Greco, Chucho Valdés, Bobby Carcassés, Alexander Brown and Elmer Ferrer, among other recognized members of the Buena Vista Social Club. As one of the youngest and most brilliant Jazz artists from the island, he has played concerts in some of Cuba's most important theaters as well as international festivals such as Teatro Olimpia, New Morning, Barbican Centre, North Sea Jazz Festival, Montreal Jazz Festival, Oslo World Music Festival.  In 2007, he formed his own quartet and now shares he time between ensemble work and his solo career.  He's travelled with his work to Brazil, France, Germany, Norway, Holland, Switzerland, United States, Dominican Republic as well as to many provinces in Cuba.  He is the winner of the 2005 audience choice award for piano in the Jazz Festival of Montreux, Switzerland.