Aldo López-Gavilán honored as the composer in residence at Habana Clásica Festival III.
La Habana, November 5th, 2019
The third edition of the Classic Havana event, to be held from November 10th to 24th, promises an exceptional encounter with the best of that kind in Cuba and the world, as announced in a press conference.
Thanks to the promotion and coordination management of its general director, pianist Marcos Madrigal, Havana will celebrate its 500th anniversary with maximum exponents of that music in a varied and rich program. The event is organized by the Esteban Salas Musical Heritage Cabinet, from the Office of the Historian of the City (OHC).
The interaction of classical music with contemporary Cuban music is one of the main objectives planned for this occasion. The important classical chamber repertoire that distinguishes the festival will be intertwined with everything that is happening in our musical and cultural reality in general, Marcos said.
Aldo López-Gavilán Junco will be the composer in residence of this edition of Habana Clásica. The talented pianist will share several of his works – some as a premiere, along with other premieres of his father, Guido López-Gavilán. Several works dedicated specifically to the Festival will also be released. On November 16th, at 9:00 p.m., in the Minor Basilica of the Convent of San Francisco de Asís, a concert will be dedicated to López-Gavilán's music. The first part will be dedicated to Stravinski, with Aldo's performances alongside the violinist Alicia Abreu and Alejandro Calzadilla (clarinet). The second part will be a premiere of a work by Aldo.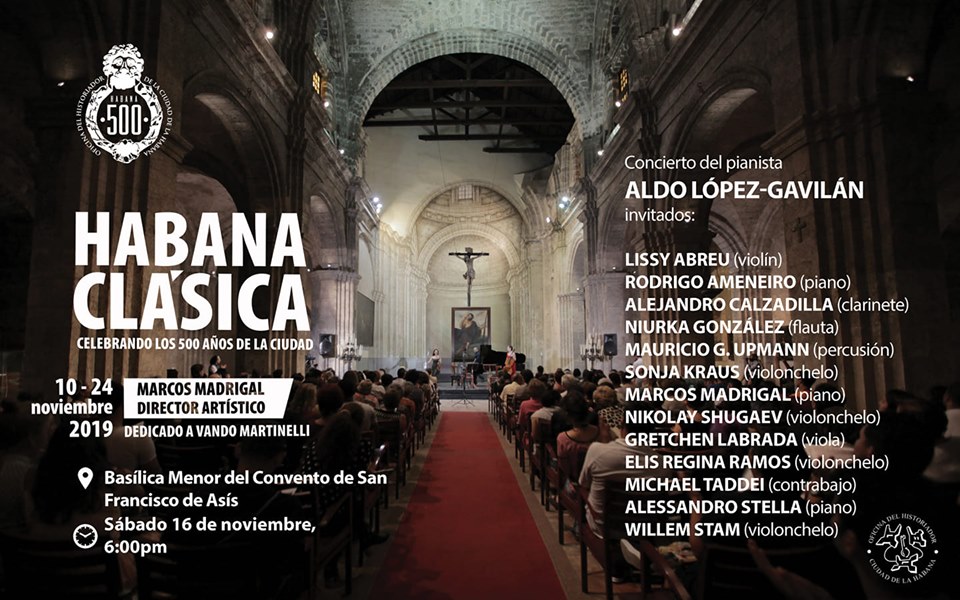 The program, ambitious and rich so as not to lose a single one of its activities, proposes concerts, operas and presentations of dance companies, with the prominence of contemporary dance.